We offer you an exclusive opportunity in the sturgeon fishing recreation campsite "Upeslīči", which is located only one kilometre from Jelgava.
There are different kinds of fish in our small 0.5 ha pond, but most of all we have sturgeons.
In comparison with other fishing sites in Latvia we offer you a unique possibility to use the recreation site infrastructure only for you individually. That means that either you will be alone, with your family, or friends we guarantee you that no other company will be disturbing your peace within this period of time.
Moreover, you will be able to enjoy those unexperienced feelings which every fisherman both, a beginner and a professional, has when at the end of one`s fishing rod a sturgeon is caught. In sturgeon fishing a fact must be taken into account that in comparison with a tench much more effort must be put in pulling it out from the pond to the bank. The fact that occasionally a sturgeon jumps highly above the water surface in some part of a pond gives particular adrenaline teasing the fishermen who have not yet gotten their catch.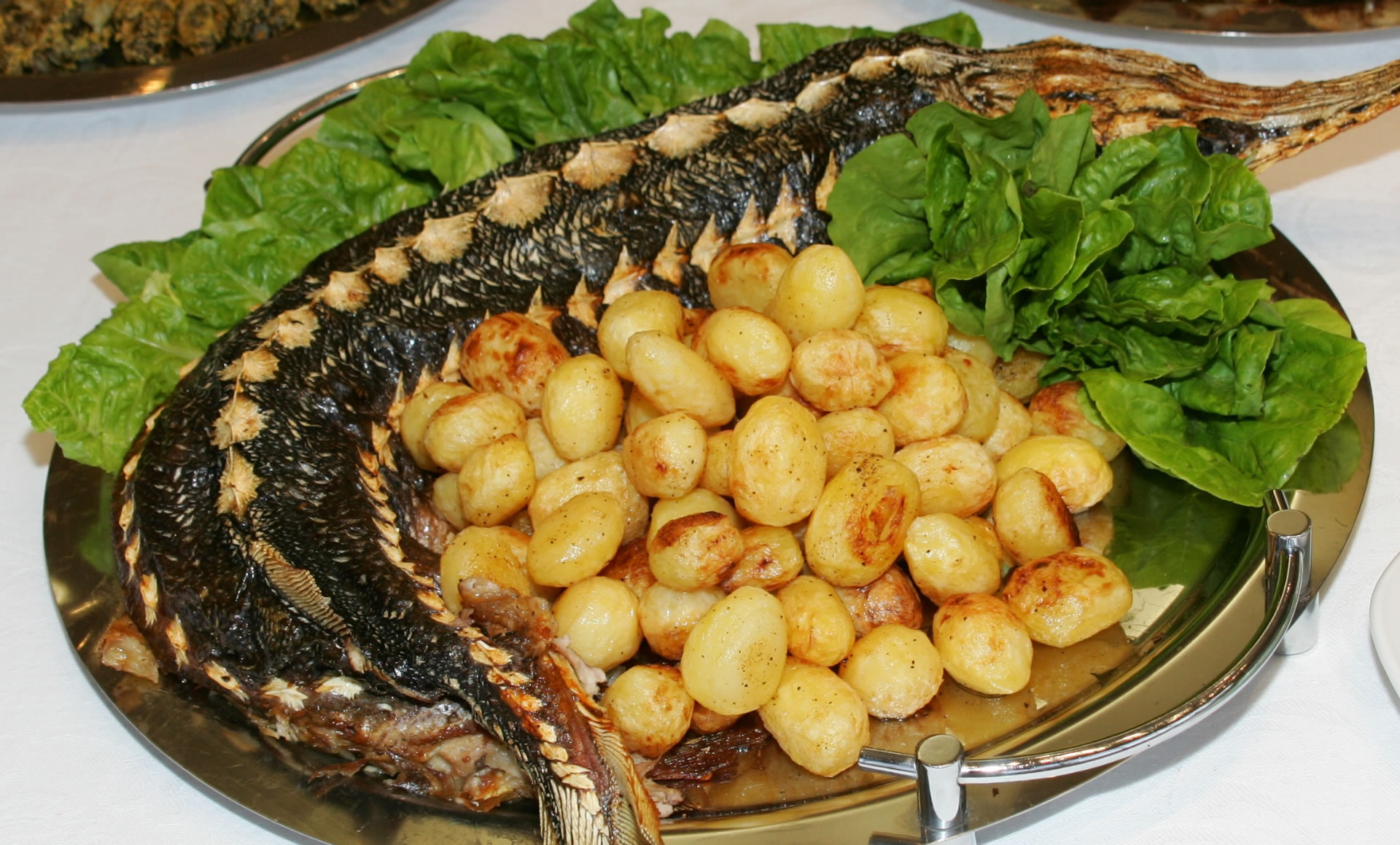 After you have caught your fish
offer you to cook it on the spot in several variations
---
Soup of kings





On fire in a real cast-iron kettle cooking the royal fish soup (only do not forget to take a bit of vodka with you, because it will impart a special flavour to your soup)
Grilled fish





You can grill it on a garden grill
Smoked fish





But if you would like to experience a real gastronomic perversion, you should definitely smoke your fish by using a combination of alder firewood together with a juniper and a sea buckthorn
SPA recreational facilities
---
In a case you have decided to take somebody with you in your fishing company who will definitely not be excited about your wish to fish, we will make a wet bath-house for those people and provide a wooden tub, where the people will be able to enjoy all the bath-house joys.
After the fish will be caught, cooked, and the bath-house joys will be enjoyed, the time will have come to sit down at the table in a special summer house and taste the most tasty fish in the world – a sturgeon. Once particularly a sturgeon was an integral part of the royal court meal.
Just in a case you will be tired after the long day and you will not be wishing to go home, the guest house will offer 7 rooms just for you with all the facilities for your rest.